Recumbent Bicycle From Wikipedia, the free encyclopedia.
SSTattler: We will concentrate with a type of "tadpole" model made by
ICE (Inspired Cycle Engineering)
- it is very fast and very easy to modify for limitations required of stroke survivors. It is a LONG article so I included a useful sub-set.
A recumbent bicycle is a bicycle that places the rider in a laid-back reclining position. Most recumbent riders choose this type of design for ergonomic reasons; the rider's weight is distributed comfortably over a larger area, supported by back and buttocks. On a traditional upright bicycle, the body weight rests entirely on a small portion of the sitting bones, the feet, and the hands.
Most recumbent models also have an aerodynamic advantage; the reclined, legs-forward position of the rider's body presents a smaller frontal profile. A recumbent holds the world speed record for a bicycle, and they were banned from racing under the UCI in 1934, and now race under the banner of the Human Powered Vehicle Association (HPVA).
Recumbents are available in a wide range of configurations, including: long to short wheelbase; large, small, or a mix of wheel sizes; overseat, underseat, or no-hands steering; and rear wheel or front wheel drive. A variant with three wheels is a recumbent tricycle / tadpole.
Description
Recumbents can be categorized by their wheelbase, wheel sizes, steering system, faired or unfaired, and front-wheel or rear-wheel drive.
Wheelbase
Long-wheelbase (LWB) models have the pedals located between the front and rear wheels; short-wheelbase (SWB) models have the pedals in front of the front wheel; compact long-wheelbase (CLWB) models have the pedals either very close to the front wheel or above it. Within these categories are variations, intermediate types, and even convertible designs (LWB to CLWB) - there is no "standard" recumbent.
Wheel Sizes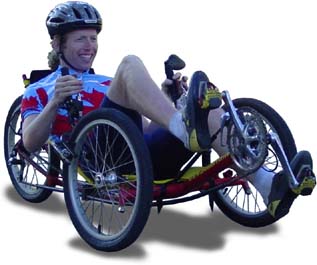 The rear wheel of a recumbent is usually behind the rider and may be any size, from around 16 inches (410 mm) to the 700c (or 27" on some older models, as on upright road bikes of that time) of an upright racing cycle. The front wheel is commonly smaller than the rear, although a number of recumbents feature dual 26-inch (ISO 559), ISO 571 (650c), ISO 622 (700c), or even 29 x 4" oversize all-terrain tires. Larger diameter wheels generally have lower rolling resistance but a higher profile leading to higher air resistance. Highracer aficionados also claim that they are more stable, and although it is easier to balance a bicycle with a higher center of mass, the wide variety of recumbent designs makes such generalizations unreliable. Another advantage of both wheels being the same size is that the bike requires only one size of inner tube.
The most common arrangement is probably an ISO 559 (26-inch) rear wheel and an ISO 406 or ISO 451 (20-inch) front wheel. The small front wheel and large rear wheel combination is used to keep the pedals and front wheel clear of each other, avoiding the problem called "heel strike" (where the rider's heels catch the wheel in tight turns). A pivoting-boom front-wheel drive (PBFWD) configuration also overcomes heel strike since the pedals and front wheel turn together. PBFWD bikes may have dual 26-inch (660 mm) wheels or larger.
Steering
Steering for recumbent bikes can be generally categorized as:
over-seat (OSS) or above seat steering (ASS);
under-seat (USS); or
center steering or pivot steering.
OSS/ASS is generally direct—the steerer acts on the front fork like a standard bicycle handlebar — but the bars themselves may extend well behind the front wheel (more like a tiller); alternatively the bars might have long rearward extensions (sometimes known as Superman or Kingcycle bars). Chopper-style bars are sometimes seen on LWB bikes. USS is usually indirect — the bars link to the headset through a system of rods or cables and possibly a bell crank. Most tadpole trikes are USS. Center steered or pivot steered recumbents, such as Flevobikes and Pythons, may have no handlebars at all.
Drive
As with upright bicycles, most recumbents are rear wheel drive. However, due to the proximity of the crank to the front wheel, front wheel drive (FWD) can be an option, and it allows for a much shorter chain. One style requires the chain to twist slightly to allow for steering.
Another style, Pivoting-boom FWD (PBFWD), has the crankset connected to and moving with the front fork. In addition to the much shorter chain, the advantages to PBFWD are use of a larger front wheel for lower rolling resistance without heel strike (you can pedal while turning) and use of the upper body when sprinting or climbing. The main disadvantage to all FWD designs is "wheelspin" when climbing steep hills covered with loose gravel, wet grass, etc. This mainly affects off-road riders, and can be ameliorated by shifting the weight forward, applying steady pressure to the pedals, and using tires with more aggressive tread. Another disadvantage of PBFWD for some riders is a slightly longer "learning curve" due to adaptation to the pedal-steer effect (forces applied to the pedal can actually steer the bike). Beginner riders tend to swerve along a serpentine path until they adapt a balanced pedal motion. After adaptation, a PBFWD recumbent can be ridden in as straight a line as any other bike, and can even be steered accurately with the feet only. Examples of PBFWD recumbents include Cruzbike, Flevo Bike, and Python Lowracer.
Yet another drive-train variation is on rowing cycles where the rider rows using arms and legs.
Fully Suspended Bikes
Modern recumbent bikes are increasingly being fitted with front and rear suspension systems for increased comfort and traction on rough surfaces. Coil, elastomer, and air-sprung suspension systems have all been used on recumbent bikes, with oil or air-damping in the forks and rear shock absorbers. The maturation of fully suspended conventional mountain bikes has aided the development of these designs, which often use many of the same parts, suitably modified for recumbent use.

Fairings
Main article: Bicycle Fairing
Some riders fit their bikes with aerodynamic devices called fairings. These can reduce aerodynamic drag and help keep the rider warmer and drier in cold and wet weather. Fairings are also available for upright bikes, but are much less common.
Seats
The seats themselves are either of mesh stretched tightly over a frame or foam cushions over hard shells, which might be moulded or assembled from sheet materials. Hard-shell seats predominate in Europe, mesh seats in the USA.
Tandem Recumbents
Just as with upright bicycles, recumbents are built and marketed with more than one seat, thus combining the advantages of recumbents with those of tandem bicycles. In order to keep the wheelbase from being any longer than absolutely necessary, tandem recumbents often place the stoker's crankset under the captain's seat. A common configuration for two riders in the recumbent position is the "sociable tandem", wherein the two riders ride side by side. There are also hybrid recumbent designs such as the Hase Pino Allround that utilize a recumbent stoker in the front, and an upright pilot in the rear.
Recumbent Tricycles
Recumbent tricycles (trikes) are closely related to recumbent bicycles, but have three wheels instead of two. Trikes come in two varieties, the delta, with two rear wheels, and the tadpole, with two front wheels.
Characteristics of recumbent trikes include:
The rider does not need to disengage from the pedals when stopped.
The trike can be geared very low to enable mountain climbing while heavily loaded and at a slow speed, without losing stability.
Trikes are capable of turning sharply without leaning, producing lateral "g forces" similar to sports cars.
Recumbent trikes may also be more suitable for people with balance or limb disabilities.
The popularity of trikes has grown significantly over the years as aging baby boomers discover the benefit of continued riding without the issues of balance and pain mostly associated with traditional upright bikes.
Folding
Several manufacturers offer
folding bicycle
recumbents to facilitate packing and travelling.
Performance
Main article: Bicycle Performance.
Over distances recumbent bicycles outperform upright bicycles as evidenced by their dominance in ultra-distance events like 24 hours at Sebring. Official speed records for recumbents are governed by the rules of the International Human Powered Vehicle Association. A number of records are recognized, the fastest of which is the "flying 200 m", a distance of 200 m on level ground from a flying start with a maximum allowable tailwind of 1.66 m/s. The current record is 133.284 km/h (82.819 mph), set by Sam Whittingham of Canada in a fully faired Varna Diablo front-wheel-drive recumbent lowracer bicycle designed by George Georgiev. The official record for an upright bicycle under IHPVA-legal conditions (but at sea level, not high altitude) is 82.53 km/h (51.29 mph) set by Jim Glover in 1986 with an English-made Moulton bicycle with a USA-made hardshell fairing around him and the bike.
The IHPVA hour record is 90.60 km (56.30 mi), set by Sam Whittingham on July 1, 2009. The equivalent record for an upright bicycle is 49.700 km (30.882 mi), set by Ondřej Sosenka in 2005. The UCI no longer considers the bike Chris Boardman rode for his 1996 record to be in compliance with its definition of an upright bicycle. Boardman's Monocoque bike was designed by Mike Burrows, whose Windcheetah recumbent trike (see above) also holds the record from Land's End to John o' Groats, 861 miles (1,386 km) in 41 h 4 min 22 s with Andy Wilkinson riding.
In 2003, Rob English took on and beat the UK 4-man pursuit champions VC St Raphael in a 4000 m challenge race at Reading, beating them by a margin of 4 min 55.5 s to 5 min 6.87 s - and dropping one of the St Raphael riders along the way.
In 2009 Team RANS won the Race Across America (RAAM) on recumbents.
See the full article:
Recumbent Bicycle From Wikipedia, the free encyclopedia.
NOTE:
Last year SSTattler articles about Catrike - Recumbent Bike: Human Powered Vehicle and Cycling Comfort At Its Best. This year we will concentrate with the model ICE (Inspired Cycle Engineering). Made in the UK but available in Canada, USA, and most other countries. In Edmonton see:
Revolution Cycle, 15103 Stony Plain Road


Edmonton, AB T5P 3Y2




Phone (780) 486-3634


Revolution Cycle are very comfortable with repairing/sales of recumbent bikes.
ICE Tech Guide
Published on Mar 21, 2013
The "ICE Tech Guide" is the first instalment of a short film series. This guide will briefly cover all the key features of the ICE Adventure and Sprint range showcasing why ICE is still at the forefront of all things recumbent/trike.
This film covers technical features like the C.F.T Fold and the Road Response System that separates ICE from all the others.
Standard YouTube License @ Icetrikes's channel
End of an Era
Published on Jan 4, 2013
On December 21st
ICE (Inspired Cycle Engineering)
moved out of their rented premises and into their very own home. But what do you do with an empty workshop after you've moved out?.....RACE!
Comments:
magna59 Congratulations on the new pastures ........ please ensure that the grass is greener on your side ........ and that more put their metal to your pedal . Regards Bob
simonkellett Ah yes: another hard day at the office :-)
Keith McRae Nice work guys, loving it, I managed to get mine up and running before xmas and was "drifting" in mud :)
Standard YouTube License @ Icetrikes's channel
The 20th Annual Midwest Recumbent Rally will be held August 9-11, 2013! Events on Friday & Saturday will be held @ the Hostel Shoppe! Sunday's "SUPER TOUR" starts @ The Jensen Center in Amherst, Wisconsin.
Events, prices, dates and times are subject to change. Last updated 4-16-13. 2013 event information will be highlighted in red when it becomes available --
Click-it.
Midwest Recumbent Rally 2012
Published on Aug 15, 2012
Reply ICE were kindly invited the Midwest Recumbent Rally by Hostel Shoppe, there is nothing better than riding with new found friends off we went. Here is a short film that was put together while at the rally.
Comments:
Zachariah West Questions: With the wheel fairing/cover, can they be put on any of the models I.C.E. makes? Is there an actual fairing option available for the I.C.E. trikes?
Reply Icetrikes Hi, I am not sure which fairing you are talking about. The one on the back of Dan's trike in this video is an Ocean cycles tailbox. These are available direct from Ocean cycles and fit any trike or bike with a flat top rack. They also make and sell a velomobile shell for the Sprint model called the Challenger which is a completely enclosed shell. Let me know if I have not answered your question. Thanks Patrick.
Stan Shipkowski Bitchin'film guys. I'm the old hippie on the TerraTrike right in front of you wearing the purple tie dyed shirt. This was my second rally. I plan to go every year. Bent folks are the best.
Reply Icetrikes Dan was particularly happy with this film as he did it in one evening to show the next day at hostel shoppe. Thanks for coming along though this was our first rally and we enjoyed it so much it certainly wont be our last. See you next year :)
Graham Williams How can I get on the next one?
Reply Icetrikes You can subscribe to Hostel Shoppe's Email List to ensure your kept up to date with when the next one will be. You can do that via their Web-site or Facebook.
Standard YouTube License @ Icetrikes's channel
Tim Parker Becomes 2012 World HPV Junior Champion
in an ICE Full Fairing
Published on Jul 2, 2012
Tim Parker becomes 2012 World HPV Junior Champion at Fowlmead cycle park in an ICE Full Fairing built in a matter of days!.
Standard YouTube License @ Icetrikes's channel
ICE - Dedicated Innovators
Published on Jun 12, 2012
At ICE, trike riders are our inspiration. We create recumbent trikes around you, perfecting our designs to ensure the best possible ride.
Comments:
youshone Top notch company. I love my trike :-)
Standard YouTube License @ Icetrikes's channel
ICE Trike Build
Published on May 22, 2012
We though it might be nice to show you a Trike build from picking the parts to shipping the trike to one of our many ICE dealers.
This was shot as a time lapse and covers approximately 1.5 to 2 hours real work time.
Comments:
David Massey What? Without giving away trade secrets, it would fantastic to see the build of a trike from start to finish. "Com' on, Man!"
CitizenOvTheWorld I bought a trike some time back for someone whom as it turns out, passed-away suddenly and it was sadly handed back to me by the mourning family. I was too devastated by the loss of a lovely human being to even begin building, not that I would know how, but I'd certainly use the adorable thing, since I would've bought one for myself soon enough anyway. It would just be so much easier with my limited time to have a spectacular, step-by-step and constantly updated, BUILD DVD for ICE trike buyers.
Standard YouTube License @ Icetrikes's channel
ICE Fold Instructional Film
Published on Mar 5, 2012
Welcome to the second of Inspired Cycle Engineering's instructional film. This film shows you how to fold your ICE Adventure and Sprint using ICE's Compact Flat Twist (C.F.T) system.
Standard YouTube License @ Icetrikes's channel
Air-Pro Seat Pad Fitting
Uploaded on Feb 20, 2012
Welcome to the first Inspired Cycle Engineering instructional film. This film shows you how to fit your ICE Air-Pro Seat Pad set, which comes with all ICE Air-Pro Seats.
The Pad System is designed to tailor the fit of your ICE Air-Pro Seat making it the most customisable hardshell seat on the market.
Comments:
Icetrikes Any suggestions of what you would like the next instructional video to be about?
Reply ThomasBaluWalter How about some maintenance videos? E.g. how to do a "spring inspection" to make sure your bike is in shape for the saison? Or what you should doto make your bike ready for winter.
Standard YouTube License @ Icetrikes's channel
Make ICE AirPro Seat Cover
Published on Mar 13, 2012
A quick timelapse of our Air-Pro seat cover being cut.
Standard YouTube License @ Icetrikes's channel
ICE 2012 Promo Film Reel
Uploaded on Jan 13, 2012
Comments:
Jim Self I like the suggestion of low flying aircraft at the ends of this video. It reminds me that I generally feel more connected to the sky when riding my trike. My head is more comfortable looking up at trees and clouds and it feels much safer looking at the scenery in every direction. Although riding fast is fun, I love riding slowly taking in the view on a beautiful day.
billiondollardan IDK about the vortex but mine is something like 300+ pounds. Most trikes hold a lot of weight since people use them to carry tents and gear for long trips. I weigh a lot, so it's nice for me. 250 lbs on a regular bicycle can be ungainly.
billiondollardan It's extremely nice. I like it far more than my traditional bicycles for road riding. I haven't made the effort to get out as much as I would like, but the trike is fantastic! Get the vortex if you want more speed though. I just enjoy the ride.
billiondollardan I just ordered my first trike from a dealer. It's an Ice Sprint RSX and I cannot wait to try this thing! I did a lot of research and ICE seems to make one of the best tadpole trikes out there. Maybe I should get a Union Jack flag to show my support lol
Standard YouTube License @ Icetrikes's channel
2011 ICE Vortex Recumbent Trike Film
Uploaded on Jan 11, 2011
Film of the 2011 ICE Vortex recumbent trike.
Comments:
lonelycyclist I'd love to fly down hillon that, what a beautiful trike.
ltsobond NICE!!!
ltsobond Really? I'm looking for a fold up trike, but I want it to be fast, are Greenspeeds fasterthen the ice trikes? I'm pretty much sold on the Vortex, but another trike with better performance can easily overrule that.
Kathleen McCall I have a Greenspeed GT3, with little tires, an I.C.E. Vortex, an I.C.E. Trice, and somehow those little Greenspeed tires go faster than the big tires on the Vortex. Ian at Greenspeed said it would be like this! They are all great trikes!
peddlerstrikes Absolutelyawesome trike.
James Adames Best Trikeever.
Daren Page Did I just see that back wheel flex!?
killianred01 BitchinTrike.
Standard YouTube License @ Icetrikes's channel
ICE on Ice - Recumbent Trikes in the Snow and Ice
Uploaded on Nov 30, 2010
The from ICE playing on ICE trikes in the ice.
Comments:
zenner2000 You need some studded tires.
ajrecumbent I hope no trike's where harmed in the making of this movie lol.
Standard YouTube License @ Icetrikes's channel
Ice Recumbent Trikes & Bikes - The Last 8 Months
Uploaded on Aug 9, 2010
We've had a busy 2010, here's some of the highlights so far! First shown at the Midwest Recumbent Rally.
Standard YouTube License @ Icetrikes's channel
Ice Trikes 2010 - Front and Rear Suspension.
Uploaded on Jan 15, 2010
ICE 2010 Trikes Road Respose Suspension film. For the Ultimate in recumbent trikes visit the ICE trikes website:
http://www.icetrikes.co.uk
84 Comments:
Juan Fernando Arroyave Salazar Cuanto cuesta tu bicicleta con el envío a mi país?
Translate to English (by Google): How much is your bike with shipping to my country?
Icetrikes It depends what your country is. We have pricing on our website and you can contact us by email for exact shipping costs.
SquirrelFromGradLife If I had that rig I simply couldn't resist putting an electric assist drive on there and load a LiPo battery pack into the frame... then it would really make sense.
Icetrikes You certainly would feel the benefits from the suspension with the extra weight the electric assist adds.
Icetrikes Hi, We do ship these suspension units as retro fit kits. Please could you e-mail us direct for a quotation including shipping to your area. There are 2 types of Velomobile shells available for the Sprint. One of which is sold direct from Canada - The Borealis from (velomobiles.ca/Borealis.html) or the UK from Ocean Cycle - the Challenger )(oceancycle.co.uk.) We do sell retro fit Motors, again could you please contact via email for a quotation. sales@icetrikes.co / Thanks / ICE HQ
1SCHUTZSTAFFEL What is the track to this video called?
Icetrikes The track is called the Staunton Lick by Lemon Jelly.
YellowLionsHunter We would like to see a wheelie.
ecomunky Cool. Only power needed to use that is a frozen Blueberry / Razzberry / Mango/emer­gin-C powder Smoothie with ice and water blended in the morning andoff you go.
MrEdysama New transmission CVT design by BitRaptor. Is a continuously variable transmission CVT gear only (the only one functional in the world), very compact and lightweight, and which could replace the current systems both for efficiency, simplicity and not least the costs. Because this CVT work only with pinions is better the all other systems by efficiency and high torque transmission. In the web page bitraptor com you will find more explanations, drawings and a short video of a basic prototype.
1SVAV 2 Какую максимальную скорость реально развить на таком аппарате, кто-нибудь знает ?
To English (by Google): What is the maximum speed to really develop this phone, does anyone know?
Juan Fernando Arroyave Salazar Ok. My E-mail address is juanferarroyave@gmail.com. My country is Colombia. Regards
See the full 84 comments ICE Trikes 2010, Front and rear suspension on YouTube.
Standard YouTube License @ Icetrikes's channel